Technology & Comfort
For Your Comfort
Because every aspect of your dental experience is important to us, we have a number of conveniences to make our office feel more like home:
Complimentary Refreshments, Including Coffee, Latte, Cappuccino, Tea, Hot Chocolate, & Bottled Water
Internet Bar in Our Reception Area for You to Check Email or Surf the Net
Children's Play Area with a Selection of Video Games to Keep your Child Entertained
Flat Screen HDTVs, DVDs, Headphones, & Blankets in Our Treatment Rooms, Plus Hot Scented Towels to Help You Relax
Digital Technology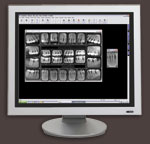 Digital x-rays are a fast and comfortable way for us to more accurately diagnose your oral health needs. And with up to 90% less radiation and no chemical processing, digital technology helps us do our part to keep you and the environment safe, too.
Intraoral Camera
Using this camera, we can give you a "tour" of your mouth on a TV screen. We also use the camera to guide you through your diagnosis and treatment options. This is helpful in keeping our patients at the center of their treatment plans. We want you to feel informed every step of the way, so you can make smart choices for your oral health and smile.
Isolite
®

System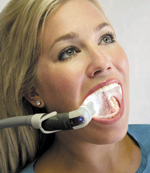 Happy patients spend less time in the chair with more comfort, so we use the Isolite® System. This system has a soft and flexible mouthpiece to shield your tongue and cheek during procedures. It has a light to illuminate your mouth from the inside, so treatments are shadowless and more efficient. AND it has a place for you to rest your jaw. It also eliminates the need for cotton rolls and rinse breaks. All because your comfort is paramount! We think you'll especially appreciate the faster treatment times, so come in and experience the difference!
Dental Magnification Loupes
Excellent dental care requires attention to detail and exacting precision. We must work in very small spaces and be accurate to a fraction of a millimeter. To achieve this, Dr. Pedraza uses the same special prismatic magnification glasses, or "loupes," that surgeons use. Yes, we take your teeth that seriously!