General Dentistry
General dentistry treatments involve diagnosis, treatment procedures, and maintenance of general conditions and problems affecting the teeth, gums, and jaw. Prevention and gum care are a fundamental part of general dentistry, as is diagnosing and treating problems before they grow to be painful and often expensive. Keeping up with oral health is vital to overall health, and it can also significantly reduce the amount of money that you'll need to spend on dental treatment later in life.
We can develop a comprehensive treatment plan to help you achieve and maintain your optimal oral health, including restorative and/or cosmetic procedures in addition to the more common general dentistry treatments.
Routine Cleanings & Preventive Care for the Entire Family
This includes individual consultations and dental exams, cleanings, digital x-rays (when needed), and a focus on encouraging proper home care and overall oral health. We also provide sealants to help protect teeth against decay, fluoride treatments for healthier and stronger enamel, and athletic mouthguards and nightguards to protect your smile.
Restorative Dentistry
This includes tooth-colored fillings, natural looking porcelain crowns and fixed bridges, endodontics (root canal therapy), permanent dental implant restorations, dentures, and removable partial dentures.
Cosmetic Dentistry
From minor tooth adjustments and smile enhancements to dramatic smile makeovers, our cosmetic dentistry services include tooth-colored fillings, porcelain crowns and fixed bridges, clear and removable Invisalign® braces, beautiful porcelain veneers, and powerful, professional teeth whitening options.
Periodontal (Gum) Health
We offer careful diagnosis, treatment, and maintenance of gum disease, using ultrasonic technology to remove plaque bacteria and tartar buildup from underneath your gums. We know that if your mouth isn't healthy, you aren't able to enjoy your food, it can become difficult to chew and even digest properly, and your whole body suffers for it. Because your gums can seriously affect your overall well-being, we do everything we can to help you keep them looking and feeling great. We also screen for early detection of oral cancer.
Emergency Care
At Oakstead Family Dentistry, we understand that dental pain is often impossible to predict and can severely affect your day to day life. We will make every effort to see anyone experiencing a dental emergency the same day.
For a brief dental emergency guide, see our FAQ page.
More Services
Invisalign
®
If clear and removable braces sound perfect to you, you could be on your way to a straight smile in no time with Invisalign®. Through a series of clear Aligners®, this comfortable and removable alternative to traditional braces straightens your teeth with noticeable results but without the noticeable bars and brackets of metal braces. The Aligners are changed approximately every two weeks to straighten your teeth step by step. AND for your ease and convenience, the Aligners can be taken out while you eat and brush your teeth. Call to schedule your orthodontic consultation today.

Beautiful Veneers in Two Visits
If chipped, discolored, or misshapen teeth make you self-conscious about your smile, veneers are a small investment that can make a BIG difference. In as few as two visits, Dr. Pedraza can sculpt your porcelain veneers and adhesively bond them to the front side of your teeth, giving your smile a more radiant and uniform appearance. Veneers look and feel like natural, beautiful teeth, and are also an excellent option to remedy teeth that are too discolored for traditional whitening methods.
Professional Teeth Whitening
In addition to giving you the benefit of a cleaner looking and more attractive smile, whiter teeth can also greatly enhance your self-esteem and confidence. As an added bonus, whitening can lead to healthier teeth because when your teeth look better, you tend to take better care of them to keep them looking fabulous. Ask us at your next visit about brightening your smile. We offer several powerful, professional teeth whitening options and would be happy to work out a personalized plan based on your dental condition, desires for your smile, and budget. We think you'll love the results of a whiter and more dazzling smile!

Tooth-Colored Fillings
Fillings are a common dental procedure to repair a slightly damaged tooth or a tooth affected by mild to moderate decay. Dr. Pedraza replaces the damaged or decayed portion of the tooth with a composite, tooth-colored material that is adhesively held in place or "bonded." Because they are bonded to teeth, composite fillings allow for more conservative preparations and the removal of less healthy tooth structure than amalgam (silver) fillings. This often results in smaller fillings, and composite fillings can be made to match the shade of your natural teeth. Composite fillings are a durable, conservative, and aesthetically appealing way to improve your smile's health and appearance. Ask us about replacing your silver fillings with more natural looking composite fillings.

Drug-Free Headache Prevention
If you suffer from migraine or tension-related headache pain, Dr. Pedraza has something to share with you. It's an innovation in headache prevention that stops your pain at its source – without drugs – so you can get the relief you're seeking. This FDA approved treatment is a small and simple device worn on your front teeth while you sleep. It helps prevent intense clenching, enabling the muscles in your jaw and head to relax, and it has relieved symptoms in the majority of those who have tried it. You could be next! For more info, see: www.HeadachePrevention.com
Sedation Options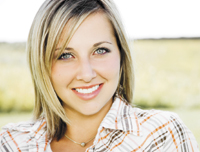 Dental anxieties are not unusual, and people of all ages experience such feelings. We will adjust our care to meet your needs, so you can receive the treatment that you desire at a pace that feels comfortable to you. For your added comfort, we have HDTVs, DVDs, and noise reduction headphones in every treatment room. We also offer minimal sedation options, known as anxiolysis, such as oral and inhalation medications (nitrous oxide). These options are a safe and comfortable way to help relieve anxiety and fear before and during dental treatment. Dr. Pedraza uses a type of slow, progressive anesthesia that results in a more comfortable numbing process.
If you have avoided seeing a dentist for a long time because of dental anxiety, please call us today. Many serious illnesses have been linked to the presence of dental diseases, including stroke and heart attack. You'll be glad you called, and we'll be glad to take care of you and your oral health.
Head over to our Technology & Comfort page to discover how we've designed our state-of-the-art office with you in mind.