Meet Dr. Jake Pedraza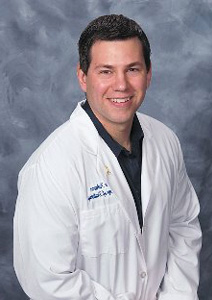 Dr. Jake Pedraza grew up in New Port Richey and is a Gulf High School graduate. He completed his undergraduate degree in Microbiology at the University of Florida, where he graduated with High Honors. He then went on to graduate from the University of Florida College of Dentistry in the top third of his class. After graduating, Dr. Pedraza continued his education by completing a rigorous residency program in Jacksonville, Florida. His Advanced Education in General Dentistry residency had an emphasis on the surgical placement and restorative aspects of implant dentistry.
In 2007, Dr. Pedraza had the honor of presenting one of his personal dental implant cases at the Nobel Biocare World Conference. Dr. Pedraza strongly believes in continuing education and training, and he will continue to make it a top priority in his practice.
In 2006, Dr. Pedraza placed the University of Florida at Jacksonville's 1,000th implant with Nobel Guide®, a computer-guided surgical technique which uses a CT scan to plan the surgery.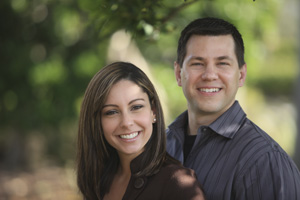 In his personal time, Dr. Pedraza enjoys spending time with his wife, Christina (who is also his office manager), their family and friends, and he often attends Gator football and basketball games. He is also an avid scuba diver who has been all over the Caribbean and has even taken part in a shark dive.
Dr. Pedraza's practice philosophy is to help maintain and restore good oral health for all of his patients by providing excellent dental care and staying on the forefront in the science and art of his profession. He believes it is a privilege to serve the people of his community and looks forward to providing high quality care to you and your family!
License # DN17559
Professional Memberships:
American Dental Association (ADA)
Florida Dental Association (FDA)
Academy of General Dentistry (AGD)
International Congress of Oral Implantologists (ICOI)
Meet Our Team
Christina Pedraza:
Executive Director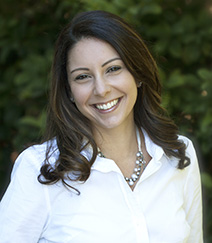 Christina was born and raised in New Port Richey, Florida. She graduated from Gulf High School in 1998 and went on to become a University of Florida Gator. It was there she started dating her husband, Dr. Jake Pedraza. She earned her Bachelor of Science degree in Business, majoring in Marketing. Christina has spent many years in the insurance industry and corporate business world, and she has a lot of experience providing excellent customer service. In running the dental office, she most looks forward to developing a great relationship with each patient and creating a warm, friendly environment for everyone. When Christina isn't working, she enjoys spending time with her husband, family, and friends. She also loves to travel, enjoys running, watches reality TV, and loves chocolate!
Holly Rees:
Dental Hygienist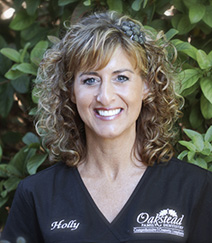 Holly has been a dental hygienist for 18 years. She loves what she does, and especially enjoys building lasting relationships with her patients. She has experience in many aspects of dentistry, including cosmetic, periodontal, implant and restorative treatments. Holly loves to bake, read, and spend time at the beach with her family. When she can fit it in her schedule, Holly also enjoys working out. She's a big sports fan, and loves to root for her Miami Hurricanes and Dolphins. And much to the Marlins' chagrin, her favorite baseball team is the Cincinnati Reds!
Tara Thompson:
Dental Hygienist
Tara was born in New York, but has lived in Florida for nearly 20 years. She has been a dental hygienist for 14 years, and she truly enjoys helping people have healthy, happy smiles! Away from the office, she is a die-hard runner, and she also loves to spend time outdoors with her two beautiful children. Tara loves to cook, and she actually IS a great cook, so her kids happily eat everything she puts in front of them. Well, almost everything.
Shelly McDonald:
Dental Assistant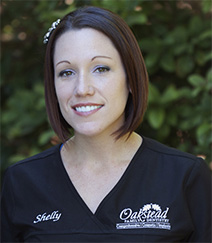 Shelly joined our team as a Dental Assistant with 8 years experience providing quality care to patients. She has a great way of relating to people and she makes you feel at home during your visits. Outside of Oakstead, Shelly loves spending time with her husband and young son and getting together with friends and family. She is a regular "Martha Stewart" and enjoys decorating and baking whenever she can.
Leah Sofarelli-Miller:
Front Office Administrator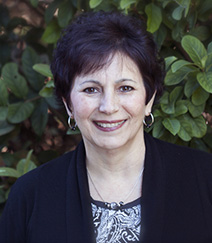 With over 30 years of experience in the dental field, Leah is an integral part of our front office staff. You can always expect a warm welcome whether you call to make an appointment or walk through our front door. Leah moved to our area from New York in 1982 and has a wonderfully busy house with her husband, two kids, and two dogs. She is a big baseball fan and loves to see the Rays play at home…Go Rays!
Stella Diana:
Insurance Coordinator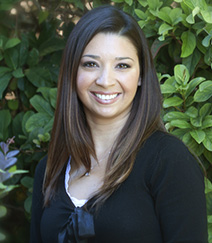 Stella joined our team in June 2011 and is our insurance expert! She was born and raised in Argentina and moved to the USA when she was 18 years old. She speaks Spanish fluently and is always ready to answer your insurance or claim questions. She is a great asset to our team with many years of experience in the insurance industry. In her free time she loves to cook, paint, and do arts & crafts projects. She loves to be outdoors on the weekends with her husband and two young children.
Cheryl Grendell:
Front Office Administrator / Hygienist
Cheryl worked as a Dental Hygienist in Boston, Mass. for 28 years before moving to Florida. She joined our team in 2015 as our Front Desk Coordinator and has loved the other side of Dentistry ever since. Cheryl is married to her high school sweetheart and is a proud Military Mom to 3 grown Sons. In her spare time she enjoys cooking, baking, spending time with her family and taking full advantage of our Florida sun and beaches!
Allison Quinlan:
Dental Hygienist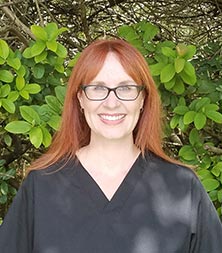 Allison recently joined our practice, (after being a wonderful Patient for many years), as our newest team member! She has 12 years of experience providing excellent care as a Hygienist, is a native Floridian, and grew up locally in Lutz. She is married, has 3 young children, and loves all things Disney! She enjoys cooking and running races when she is away from the hygiene chair.